Best Price Douglas Fir Pergolas Miami Fl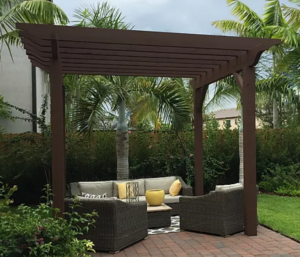 Douglas Fir is also a stunningly beautiful wood as you can see here in this ShadeScape™ 6000 Series timber frame DIY pergola kit.
Dimensionally stable Douglas Fir is recognized for its superior strength to weight ratio and offers peace of mind in its ability to season well. It is also well documented that Douglas Fir has maintained a superior performance in its ability to perform against the natural forces of heavy mountainous snow, winds and earthquakes which is why it is an architectural engineer's first choice for expansive ceiling beams, trusses, collar ties, wall-tie trusses, girders and more.
Douglas Fir has a tighter closer grain which makes it much less likely that the knots will ever loosen or to fall out as in other species.
I could go on and on about the remarkableness and amazing characteristics of the Douglas Fir and it truly is but Douglas Fir is also pleasingly appealing. Even from this simple phone photo, sent to me by Design Manager Brian, you can witness for yourself. As knotty as Cedar wood is, and I love Cedar, I personally, would still choose Douglas Fir for its beauty, strength, stability and proven durability! It is not just beautiful on the outside. Its inside characteristics surpasses any other species for sound responsible architecture. With the abundance and availability of Douglas Fir you get unrivaled quality at a lower price that looks great! This is a wonderful heirloom architectural masterpiece.
The solid wood planters, deck and ShadeScape™ 6000 Series pergola is so incredibly warm, tied together they create a very welcoming ambience. I really like the height of overhead clearance on this pergola. From the solid wood deck to the bottom of the lowest beam is eight foot six inches. Standing on the deck beneath and looking up to the roof of the pergola gives an awe, almost cathedral-like feel. From the deck to the roof is ten feet six inches.
We look forward to working with you…
GET A FREE QUOTE NOW
HEADQUARTER
Pick Up or Delivery
(305) 467-4572
Email: Roy@BrazilianLumber.com
Form Of Payments